A quick look at RSVP's 2017-2018 Season:
William Shakespeare's Julius Caesar - August 25-27, 2017, 6:30pm

Joe Landry's War of the Worlds: The Panic Broadcast - October 27 & 28, November 3 & 4, 7:30pm;
Sunday matinees 2:30pm October 29 and November 5, 2017

Charles Dickens' The Cricket on the Hearth - As part of Asheboro's Christmas on Sunset, December 8, 2017
[Auditions: Saturday November 4, 10am-12noon]

Joseph Kesselring's Arsenic and Old Lace - February 23-25 and March 2-4, 2018
[Auditions: Saturday January 6, 10am-12noon; and Monday January 8, 7-9pm]

Ted Swindley's Always…Patsy Cline - April 27-29 and May 4-6, 2018
[Auditions closed]

Disney's The Little Mermaid - July 27-29 and August 3-5, 2018
[Auditions: Saturday May 19, 10am-12noon; and Monday 21, 7-9pm]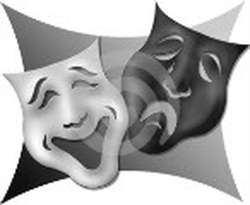 Our 2016-2017 season: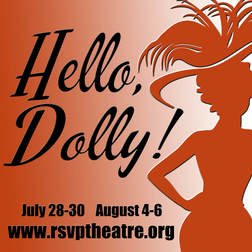 Jerry Herman and Michael Stewart's
Hello, Dolly!
July 28-30 and August 4-6, 2017
Who do you think of? Carol Channing? Pearl Bailey? Bette Midler? Barbra Streisand? No matter who inhabits the role of Dolly Gallagher Levi, this tuneful spectacle of picture hats and gentlemen's spats will take you back to the previous century in grand style. Herman and Stewart remodeled Thornton Wilder's play The Matchmaker into a mega-hit of stage and screen. RSVP invites you to be present as Dolly comes down the staircase to her signature song.
---
Recently performed:

Ketti Frings'
Look Homeward, Angel
This play won the 1958 Pulitzer Prize for drama. Hugh Griffith, Anthony Perkins, and Jo Van Fleet were nominated for best actor awards. RSVP's version will be a reading with all the bells and whistles. Look Homeward, Angel is a piece of North Carolina cultural history that continues in importance. Prolific Thomas Wolfe was the author of prose more poetic than prosaic. Ms. Frings captures the essence of the book deftly by concentrating on Eugene Gant's coming of age and his departure from home to go to college.
Directed by Alisa Smith McNeill

---
Scott Icenhower's
The Service at Rocky Bluff
February 24-26 and March 3-5, 2017
This play broke box office records at Greensboro's Barn Dinner Theatre not too long ago. The plot revolves around a comic attempt to keep a pastor from leaving the church he currently serves. Full of humor and music (mostly from the hymnal), this production tickled and moved theatre-goers.
Directed by Gwen Hall

---
Charles Dickens'
A Christmas Carol
Adapted and directed by Jim Langer. This presentation has become a popular part of Asheboro's "Christmas on Sunset" the last three years. Mr. Langer infused the whimsical, the ghostly, and dramatic text into a large-scale reading format. The costumed cast covered the stage with characters and situations to create a fun-filled family entertainment.

FREE performances were held at the Sunset Theatre, 234 Sunset Avenue, as part of Asheboro's annual
Christmas on Sunset
-
6:30 and 8:00pm Friday, December 9.
Directed by Jim Langer, Roundhouse Actors Professional Theatre.
---
Agatha Christie's
And Then There Were None
has been thrilling and chilling audiences since 1943. Although classified as a drama, it is not devoid of humor. Eight guests, who have never met each other or their apparently absent host and hostess, are lured to an island off the coast of Devon. Marooned there with two house servants, they begin, mysteriously, to die. This is not only a "whodunnit?" but also a "howdunnit?"
Directed by Travis Walsh


William Shakespeare's*
The Taming of the Shrew
* Director Geri Bressler adapted Shakespeare's immortal masterwork for clarity and to heighten the comedy. Her edition added Rosie the Riveter (Kate) to a loud, boisterous Army officer as her Petruchio set in the swing dance era. This addition of traditional to contemporary created a clever and intelligent evening of theatre for maximum fun. Bicentennial Park Rotary Pavilion, Downtown Asheboro - FREE Admission
Directed by Geri Bressler

RSVP Appreciates the Support of our 2016-2017 Season Patrons!

Producer:
Todd & Denise Williams

Star:
Pam Hill, Clerk of Court
Peggy & Bob Morrison
Tom & Chris Osteen

Ensemble:
Charles & Jacquelyn Betts
Lawrence & Alice Hammond
Doris Kidwell

Cameo:
Michael & Tammy Applegate
Talmadge & Sara Baker
M. Dawes
John Hall
Bill & Ann Hoover
David & Becky Hughes
Pat Hurley
Jane Lisk
Sue McCullah
Elizabeth Perry Nault
Carol & Jim Rich