AUDITIONS for HELLO, DOLLY!

Tuesday, May 23, 7-9pm

RSVP Community Theatre is pleased to announce auditions for this summer's production of Hello, Dolly! on Tuesday, May 23, from 7-9 pm at the Randolph Arts Guild / Moring Arts Center, 123 Sunset Avenue, in downtown Asheboro. Jim Shover will direct and choreograph the show; Daniel Kosel will be the music director. Performances will take place at the Sunset Theatre July 28-30 and August 4-6.
Auditioners need to prepare sixteen bars of any song (not from the show) and be prepared to learn a short dance combination as well as read from the script. An accompanist will be present. Other than the song, no advance preparation is necessary.
Hello, Dolly! is a big, blooming musical by Jerry Herman and Michael Stewart based on The Matchmaker, a play by Thornton Wilder. First produced by David Merrick in 1964 it has become an enduring and endearing international hit. Famous Dollys include Carol Channing, Mary Martin, Pearl Bailey, and most recently, Bette Midler. A winner of 10 Tonys, the play is full of the complications of love, the largest complexity belonging to Dolly Levi and Horace Vandergelder. By play's end Horace realizes life would be dull without her and she promises she'll "never go away again."
There are six female characters and six male characters of various ages and description plus a chorus. All community members are invited to audition. For best results, come dressed and ready to move and maybe wait a little. Auditions are friendly and painless.
RSVP Community Theatre works in association with the City of Asheboro to present the best musical and non-musical plays for our hometown audiences. If you have questions please call 336-625-8373.
To recap: auditions are 7-9pm Tuesday May 23 - Randolph Arts Guild, rear entrance, upstairs.

---
Recently performed: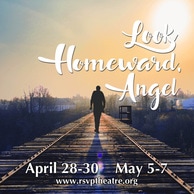 Look Homeward, Angel was the breakthrough 1929 novel by Thomas Wolfe. Although fiction, it was very autobiographical about Wolfe's early years growing up in Asheville, detailing all the "firsts" of a young man's life. In 1957 Ketti Frings adapted the novel into a Pulitzer Prize-winning play; Alisa Smith McNeil directed RSVP's "all the bells and whistles" staged reading version, with Jaden Skelly as stage manager. The splendid company, shown below, featured (L-R, back row): Bill McAnulty, Scott Hunter, Michele Dawes, Tammy Willcox, Russ Giles, Philip Shore, Peggy George Kilburn, Alisa Smith McNeill, Justin Tarlton, Dan Bressler, Reg Ferree, Manashi C-Lim, Jim Wright, Laura Gwynn Clapp. Front row, L-R: Elijah Laprise, Makayla Hunter, Brandon Rancourt, Bethany Kidd, Parris Brown.

---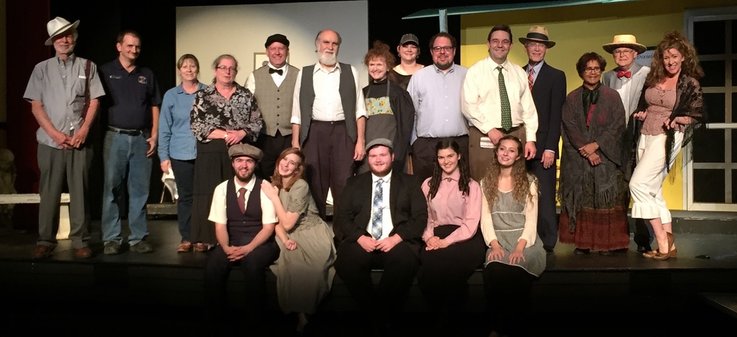 ---
---

The Service at Rocky Bluff,

a humorous play with music, is not exactly what you would call your typical musical comedy. The basic elements of musical theatre are there, but it's different. Just plain different.

Rocky Bluff

is the creation of Scott Icenhower, a playwright living in Greensboro. It is the tale of a wandering C&W quartet that returns to the home church, Rocky Bluff Baptist, of one of its members, that of Amy the lead singer. The quartet not only does a regular show biz show, it includes a gospel section as well. Gospel is obviously the type of music they'd rather be performing.

But there is unrest at Rocky Bluff. A search committee from another church is poking around with the intent to poach the pastor. The antidote to this, as determined by the quartet and the church staff, is to show how inept the pastor is by putting a comic impostor in the pulpit for a song service to fool the poachers.

The folks of the play are pretty ordinary. Wade (Philip Shore) is the father of Floyd (JB Griffith III) and Lloyd (David Kolb). Floyd and Lloyd are frequently mistaken for one another. Amy (Alisa Smith McNeill), a Baptist, has married Floyd, a Methodist, creating some concern about mixed marriages. Marie (Teresa Thomas) and Betty (Shannon Lowe) know the quartet members well. Marie is concerned for the future of Rocky Bluff. Betty is, too, but there is something else stuck in her craw with regard to Amy. How Betty and Amy attain rapprochement provides even more humor and a dash of poignancy.

The Service at Rocky Bluff

is a wonderful mixture of light-hearted antics combined with the serious message of several favorite hymns. It's a match made in heaven.

[see full article written by Philip Shore for Asheboro's Courier-Tribune]
---
---
Click HERE to see what else is coming in
RSVP's 2016-2017 Season

---

Questions? Suggestions?

Please contact the RSVP Theatre Webmaster
And we'd love to have you like us on Facebook and follow us on Twitter.
Looking forward to seeing you at ... or IN ... one of our upcoming performances.
(Want to get involved? Click here!)