Thanks to all who auditioned!
Stay tuned for the cast list.


RSVP Community Theatre, in association with the City of Asheboro, will present Joseph Kesselring's beloved hit play, Arsenic and Old Lace. Performances will take place at the Sunset Theatre February 23-25 and March 2-4, 2018. Arsenic and Old Lace ran for more than 1500 performances on Broadway, and countless movie watchers have seen the Cary Grant version in movie theatres and on television. The story is that of good deeds derailed and deranged. Two gentle old ladies, in their effort to alleviate the troubles of elderly men with no families, offer a tot of elderberry wine they made themselves. What they put in the wine is potent enough to carry their guests off to a better place. To remove the bodies, they have convinced their brother Teddy that the men are yellow fever victims lost in the digging of the Panama Canal – and that's just the start of it. Surprises and revelations fly around like a tornado. RSVP has been serving the Asheboro/Randolph community since 1985 offering comedy, drama, and musicals of rare quality. For updates, visit RSVP Community Theatre on Facebook. If you have questions about the auditions, please call 336-625-8373.

---

RSVP's Gift to the Community:
The Cricket on the Hearth


Don't let Christmas go without one last treat! Free and open to the public, RSVP Community Theatre and the City of Asheboro will present THE CRICKET ON THE HEARTH by Charles Dickens for one show only at the Sunset Theatre, 236 Sunset Avenue, Asheboro, Monday, January 29, at 7:30 p.m. Originally scheduled for Christmas on Sunset, the production succumbed to the weather. Here it is again! Free family friendly, fresh, and full of fizz. A staged reading on-the-hoof, the show runs less than an hour.
The Cricket On the Hearth is one of Dickens' four Christmas novellas that were extremely popular in the mid-nineteenth century. The best known of these stories is, of course, A Christmas Carol, which has been tremendously influential in traditions we continue to use in our celebrations of the season. Cricket is a wintery tale about the importance and sanctity of home in which love should reign. It is full of Dickensian characters who can hardly speak without exclamation points at every sentence.
Philip Shore prepared the script from the original text. Tammy Willcox is the stage manager. Dan Bressler attends to technical matters. The cast includes Russ Giles, Scott Murkin, Shannon Lowe, Jim Wright, Alex Robinson, Elijah Laprise, Emily Farr, and Peggy Kilburn. Manashi C-Lim will narrate. Oh! And the Cricket! The Cricket On the Hearth must have a Cricket! Mary Beam will assume that role.
Though it may seem odd to offer a show on a school night, it IS classical literature. And it IS brief. And it IS very festive. And it IS RSVP's Christmas present to you, the community, a little late. Don't be a Scrooge! Please come and enjoy. The theatre opens for seating at 7 p.m.
RSVP is your community full-service drama group: laughs, tears, music, and dance. Serving since 1985. Photos and information are also available on Facebook at RSVP Community Theatre. If you have questions about this presentation, please call 336-625-8373.


---



RSVP's presentation of THE CRICKET ON THE HEARTH is supported by a Grassroots Grant from the North Carolina Arts Council.

---
Recently performed:
Joe Landry's
WAR OF THE WORLDS: THE PANIC BROADCAST
The scene: October 31, 1948. Radio station WBFR recreates Orson Welles' notorious 1938 Mercury Theatre broadcast of H.G. Wells' novel, "The War of the Worlds" – which inspired panic in listeners who mistook the radio play for on-the-spot news. Complete with vintage commercials and live sound effects, this radio-play-within-a-radio-play is a thrilling homage to the golden era of radio.

Just as in the thrilling days of yesteryear and the golden age of radio drama, each actor played multiple parts:
Orson Welles / Professor Pierson--Phillip Gilfus
Harry Haywood / John Houseman--Jason Mandara
Jake Laurents / Howard Koch--Alan Pugh
Lana Sherwood / Ora Nichols--Geri Bressler
WBFR Stage Manager / Mercury Stage Manager--Tammy Willcox
Studio Announcer / Ensemble--Russ Giles
Meridian Room Announcer / Ensemble--Austin Grant
Carl Phillips / Ensemble--Benny Williams
Freddy Filmore / Mercury Announcer--Elijah Laprise
Farmer Wilmuth / Ensemble--Dan Bressler
Commercial Jingle Singer / Ensemble--Shannon Lowe
Secretary of the Interior / Ensemble--Jim Wright
Policeman at Wilmuth Farm / Ensemble--Debra Crawford
Artillery Observer / Ensemble--Alex Robinson
Irate Listener / Ensemble--Sarah Russell
Dorothy Thompson / Ensemble--Manashi C-Lim

Director: Scott Hunter
Stage Manager: Bethany Kidd

---
What audiences had to say about RSVP's production of JULIUS CAESAR:
"Shakespeare in Bicentennial Park is always marvelous! Keep doing the plays for Asheboro!"
"Enjoyed the variety of actors – young, older, experienced, novice"
"This is a difficult play with layers and layers for us to uncover. The playbill was a great help to the less familiar."
"I've been to many of your plays and they are all very well done."
"Excellent show, thanks for making this available to the public."
"Talented cast!"
"Outdoor setting very nice. Very professional. Good volume. Great costumes."
"My first time, but not last!"
"Always an amazing experience
for the whole family."
"The actors are fabulous!"
"Especially enjoyed the open air setting."
"Give us more Shakespeare!"


Emperor Julius Caesar was such an authoritative figure in history that his name comes down to us in other forms: Kaiser and Tsar, to name two.
The play, though, is more about the aftermath of his assassination than a character study of the title personage.





DRAMATIS PERSONAE:
Julius Caesar – Alan Pugh
Calpurnia – Shannon Lowe
Brutus – Manashi C-Lim
Lucius – Makayla Hunter
Cassius – Jaden Skelly
Casca – Jason Mandara
Marc Antony – Scott Murkin
Octavius – Dan Bressler
Popilius – Samantha Darling
Soothsayer – Scott Hunter
Caesar's Servant – Elaina Hunter
Antony's Servant – Tammy Willcox
Plebians - Nick Aldrich, Liz Diaz, Brandon Jackson, Brandon Rancourt, Lisa Rose, Alex Robinson, Sarah Russell, Rebekah Seawell, Laurine Varner

Director/Script Adapter/Costumes: Geri Bressler
Stage Manager: Tammy Willcox
Producer: Michele Dawes
RSVP's presentation of JULIUS CAESAR is supported by a Grassroots Grant from the North Carolina Arts Council.

---
What audiences had to say about Hello, Dolly!:
click HERE for the August 3 Courier-Tribune review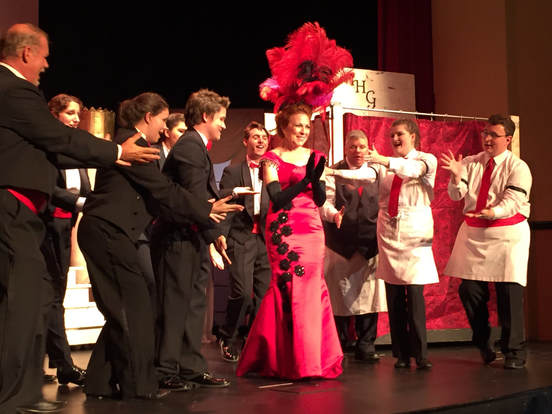 It's Dolly, Dahling!
By Philip Shore, Special to the Courier Tribune
Soon the waiters at the Harmonia Gardens, an upscale New York City restaurant, will welcome the return of Mrs. Dolly Gallagher Levi with a resounding and sonorous
Hello, Dolly!
at your local, comfortable, and inviting showplace, Asheboro's
Sunset Theatre
.
The audience will first have been transported to Yonkers, New York, at the end of the 19th century, where prosperous Horace Vandergelder is in the market for a wife. Then he must travel to the Big Apple to accomplish his goal — that is, to find her.
RSVP Community Theatre, in association with the City of Asheboro, is presenting, for the first time,
Hello, Dolly!
for your delectation.
Before
Hello, Dolly!
became the iconic musical of the latter '60s … became the longest-running show in its time at 2,844 performances … became an international hit that now comes into your neighborhood … its plot was a very busy literary item.
Thornton Wilder, American playwright
(Our Town)
and novelist (The Bridge at San Luis Rey), borrowed it from Johann Nestroy, who had borrowed it from John Oxendine for his 1835 play
A Day Well Spent.
Wilder called his play
The Merchant of Yonkers,
which he then re-titled
The Matchmaker.
The Merchant of Yonkers
ran a glorious 39 performances in 1938. (Those among the cast you might recognize were a young Tom Ewell and a character actor named Philip Coolidge; the rest are bedimmed by time.) In 1955,
The Matchmaker
hit Broadway for 486 performances, a considerably better outing. Ruth Gordon was Mrs. Levi. Arthur Hill and Robert Morse also appeared. David Merrick produced the play and then, in 1964, the musical.
The show as we currently know it (Book by Michael Stewart with music and lyrics by Jerry Herman) was written with Ethel Merman in mind. No, she didn't want it (but played Dolly later). Nancy Walker (who played the redoubtable Ida Morgenstern in
Rhoda
as well as the waitress Rosie in paper towel commercials). No, she didn't want it. Mary Martin. No, but she didn't want it (but played Dolly later). Mr. Merrick then auditioned Carol Channing and history began to be written. Gower Champion directed and choreographed.
The show's title changed at least three times. "Dolly, A D****d Exasperating Woman" and "Call On Dolly" were forgotten as soon as Mr. Merrick heard Louis Armstrong's version of what has become the title song. That first title would play neither in Peoria or Asheboro. Thank heaven for Satchmo.
What, you may be wondering, is the play about? Romance! That's the whole thing, but some of the people want romance too much and some wish it would go away.
At base it is a farce, but without door-slamming. Instead, personalities slam and, in the end, you will be relieved to know, everyone is happy.
Click here to read the full article in Asheboro Courier-Tribune's Get This!
---
---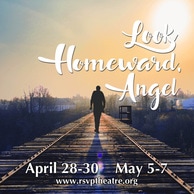 Look Homeward, Angel was the breakthrough 1929 novel by Thomas Wolfe. Although fiction, it was very autobiographical about Wolfe's early years growing up in Asheville, detailing all the "firsts" of a young man's life. In 1957 Ketti Frings adapted the novel into a Pulitzer Prize-winning play; Alisa Smith McNeill directed RSVP's "all the bells and whistles" staged reading version, with Jaden Skelly as stage manager. The splendid company, shown below, featured (L-R, back row): Bill McAnulty, Scott Hunter, Michele Dawes, Tammy Willcox, Russ Giles, Philip Shore, Peggy George Kilburn, Alisa Smith McNeill, Justin Tarlton, Dan Bressler, Reg Ferree, Manashi C-Lim, Jim Wright, Laura Gwynn Clapp. Front row, L-R: Elijah Laprise, Makayla Hunter, Brandon Rancourt, Bethany Kidd, Parris Brown.

---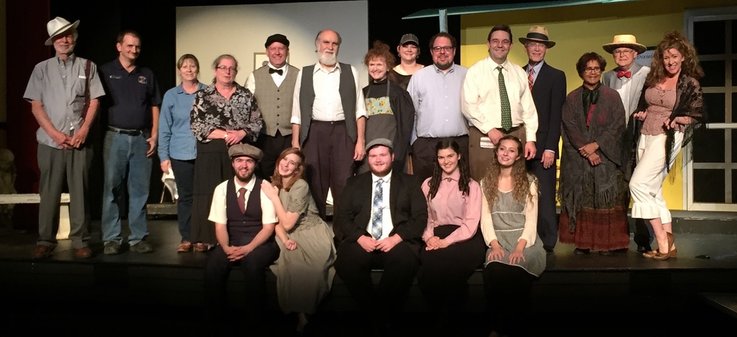 ---
---

The Service at Rocky Bluff,

a humorous play with music, is not exactly what you would call your typical musical comedy. The basic elements of musical theatre are there, but it's different. Just plain different.

Rocky Bluff

is the creation of Scott Icenhower, a playwright living in Greensboro. It is the tale of a wandering C&W quartet that returns to the home church, Rocky Bluff Baptist, of one of its members, that of Amy the lead singer. The quartet not only does a regular show biz show, it includes a gospel section as well. Gospel is obviously the type of music they'd rather be performing.

But there is unrest at Rocky Bluff. A search committee from another church is poking around with the intent to poach the pastor. The antidote to this, as determined by the quartet and the church staff, is to show how inept the pastor is by putting a comic impostor in the pulpit for a song service to fool the poachers.

The folks of the play are pretty ordinary. Wade (Philip Shore) is the father of Floyd (JB Griffith III) and Lloyd (David Kolb). Floyd and Lloyd are frequently mistaken for one another. Amy (Alisa Smith McNeill), a Baptist, has married Floyd, a Methodist, creating some concern about mixed marriages. Marie (Teresa Thomas) and Betty (Shannon Lowe) know the quartet members well. Marie is concerned for the future of Rocky Bluff. Betty is, too, but there is something else stuck in her craw with regard to Amy. How Betty and Amy attain rapprochement provides even more humor and a dash of poignancy.

The Service at Rocky Bluff

is a wonderful mixture of light-hearted antics combined with the serious message of several favorite hymns. It's a match made in heaven.

[see full article written by Philip Shore for Asheboro's Courier-Tribune]
---
---
Click HERE to see what's coming next at RSVP!
---

Questions? Suggestions?

Please contact the RSVP Theatre Webmaster
And we'd love to have you like us on Facebook and follow us on Twitter.
Looking forward to seeing you at ... or IN ... one of our upcoming performances.
(Want to get involved? Click here!)